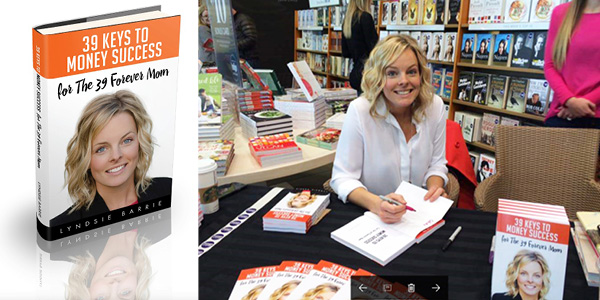 Lyndsie Barrie, a Pinnacle Dealing Representative from Alberta, recently launched her book called "39 Keys to Money Success for The 39 Forever Mom". Lyndsie is a single mother, a businesswoman, a former hairdresser turned financial coach and now, author. While she was a hairdresser, Lyndsie's passion for investing began the day a business owner client recommended a book called Smart Couples Finish Rich. Lyndsie was able to transition her career into financial services and eventually she formed Barrie Financial Consulting.
Before her career in financial coaching began, Lyndsie struggled with trying to understand the world of saving and investing. After many years of wishing there had been a book written for Canadian mothers by a Canadian mother, and encountering many mothers with similar questions, she decided to write that book herself.
Not only does Lyndsie believe her book will help Canadian women manage their money better, she believes every mother wants the comfort of knowing her children will be successful stewards of their money. That's why her book includes not only money success keys for moms, but also for teens and young adults.
Her book is divided into three sections. The first part details her journey from a "hairdresser single mom to financial coach". The second part covers money management basics and the final section talks about investing and life insurance basics.
Throughout the book, Lyndsie also presents nuggets of life wisdom along with useful worksheets that can also be downloaded from her website. Her book will leave readers feeling inspired and ready to take action.
Since self-publishing her book, Lyndsie has already received many inquiries from financial professionals seeking her secrets to success, whether it's about how to write a book or how she brands her business. She believes everyone must write down his/her goals and verbalize them to friends, family and social media networks.
Lyndsie credits her business coach Mike Skrypnek and her mastermind group for the successful completion of her book. Mike helped her define her "why". She believes it's vital to invest in business coaching. "Put your money where your mouth is." says Lyndsie. "I cannot emphasize enough the importance of having a coach to keep you accountable to your goals through regular conversations and meetings."
Through her social media efforts, Lyndsie has gained brand recognition and is in the top rankings on LinkedIn. Her best advice to everyone is, "Never forget that you are a business owner. You are not an employee. If you struggle with prioritizing your tasks or you feel like you are spinning your tires, get help." One of the most life changing realizations which she reminds herself of every day is:
"People don't care what you do. They care WHY you do it."
Lyndsie dedicates "time blocks" each day to:
Helping clients
Sharing her financial knowledge by creating articles, videos and presentations
Currently, Lyndsie's book is available for sale at Indigo Signal Hill and on her website: http://barriefinancialconsulting.ca
In January 2017, Lyndsie's book will be available on Amazon as an e-book and as an audio book.
Congratulations Lyndsie!
What a tremendous accomplishment!