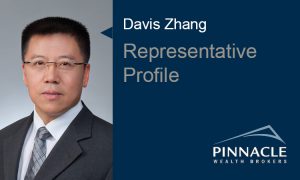 What's your favourite thing about being a financial advisor?
Providing free education about North American financial knowledge and share wealth building opportunities with my community. Most of the people in my community have been relatively isolated due to different cultural and social backgrounds. I am excited I can help them by sharing my 16 years of life experience in Canada as an old immigrant and my 11 years of experience in the financial industry in Canada.
Which one of Pinnacle's values do you identify with most?
Due diligence, variety of offerings on the product shelf, integrity and a well-experienced team.
What do you do in your spare time?
Most of my time is spent focused on my business, but I do like to spend my spare time in the gym when I can.
Davis Zhang is the Vice President of the Asian Division and a Private Market Specialist at Pinnacle Wealth Brokers Inc. He is based out Vancouver, British Columbia.